C-Store Review: Federation Exeter Class
EXETER CLASS:
C-Store Info: A variant on the famed Constitution Class, the Exeter honors the 400 crew members of the U.S.S. Exeter who were killed by a biological agent in 2268. The Exeter Class comes equipped with an Ionized Gas Sensor that provides a bonus to Starship Sensors and can modify a torpedo to track down and target a cloaked ship. The Ionized Gas Sensor can be equipped in any console slot of any Cruiser.
The Cruiser Refit configuration includes the Exeter, Constitution, Excalibur and Vesper classes. Unlocking the Cruiser Refit: Exeter Class also unlocks the Exeter Class costume for the Cruiser.
Cost: 800 cp
Minimum Rank: Lieutenant Commander
Stats: Crew: 400
Weapons: 2 Fore, 2 Aft
Device Slots: 4
Bridge Officer Stations: 1 Ensign Tactical; 2 Lieutenant Engineering; 1 Ensign Science
Console Upgrades: 1 Tactical, 2 Science, 2 Engineering
Base Turn Rate: 9 degrees per second
Impulse Modifier: 0.15
Hull Strength: 19,500
+5 Power to all Subsystems
Ionized Gas Sensor
Review: I did test this ship out on Tribble with the rest of the Ship Busters crew. The design is very impressive, so much even that I wish to have a T5 upgrade of this. No bugs with the ship, model or textures that I found, but the necells do strike me abit odd. Maybe its because its a strech out to the JJ-verse style and I beleave they don't fit well. Personally, the TMP Connstitution Class, or also known as Enterprise class was my boy hood dream and still is. I loved her and seeing this ship really make me think that this could be a 100 year update to the Enterprise A. But for my tast, place the Excalibur's nacells on it, the lines will look better.
 Now like the Gladius, you can't use this ship at endgame and LT. Commander level is a fast grind level, so having this ship will be nice, but you will not use it long. But… The Ionized Gas Sensor is well worth the buy as it will come in handy during thous early mission where you will find many KDF npcs with clock during battle and you will have to wait for them. They will also come in handy in PVP if you get stalked allot by clocked ship. Not only will you uncloak them, you also have a chance to disable an opponents engines. Jest keep in mined 
this is not a torpedo, if you click on this power, it will add the sensor to the next torpedo fired. Also, it's worth noting that this power is easily beat by simple declocking your ship or brace for impact, and these are jest two that i'll share, lol.
My Rating: 3 of 5 
Why? I still believe that the price for this ship is high for its rank, and you only use it for a little wile.
Cannon Info:
The U.S.S. Exeter NCC-1672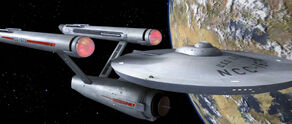 Ionized Gas SensorThe Exeter was in two Star Trek TOS episodes.The first was in TOS: Court Martial where it was call by name and also seen on Starbase 11′s repair chart. The second time was in TOS: The Omega Glory where we get to see her adrift. The Enterprise discovered the deserted Exeter in orbit of planet Omega IV. When boarded, the ship's complement of 400 were found dead, in the form of dehydrated crystals dust on the floor.
Only seen in Star Trek 6: The Undiscovered Country, the Ionized Gas Sensor was placed in a Mark VII Photon Torpedo by Spock and McCoy as a means of exposing the prototype Klingon Bird of Pray that Chang was using that could fire wile clocked. The direct hit to the unshielded ship uncloaked her and left the Bird of Prey immobile with the Enterprise A and the Excelsior destroy her.
---